Are you one of the millions of South Africans who are quite into their jackpot games? On a weekly basis,
we all play our lucky numbers in the hopes of being the next South African success story, thanks to a huge jackpot win – but unfortunately, more often than not we're afforded nothing more than satisfactory jackpot winnings. While a couple of million in the bank sounds great in theory, the reality is that if you're not
careful with your spending habits, in a few short years you could be back in the exact same situation that
you started off in – sometimes even worse.
With LottoStar.co.za though, this game-changing product is set to make some really huge waves in our
South African online gaming industry; and all thanks to their incredible jackpot prizes of up to
R160 million – never-before seen on South African shores! Never heard of them before? Let's take a closer look at this phenomenal platform: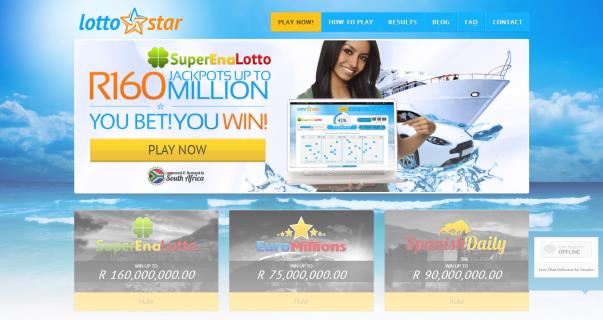 SO REMIND ME AGAIN, WHO EXACTLY ARE THEY?
LottoStar – that's who. A revolutionary product conceptualized and brought to life by real people – for real people. Despite what you may think, they aren't out to take you for a ride; licensed, approved and
regulated by the Mpumalanga Gambling and Racing Board, you can rest assured that LottoStar.co.za
is as real as real gets!
OKAY, FINE. YOU'VE GOT ME INTERESTED. WHAT ELSE?
Well, where do we begin? How about the jackpot prizes on offer? After all, that's the main point of us
indulging in these games, in order to lay claim to a life-changing win – and on LottoStar, the potential
winnings to be enjoyed is life-changing indeed! For the first time ever, we as South Africans can finally
enjoy games which are able to pay up to nine digits in jackpot prizes; that's over R100 million!
With a prime selection of games which are drawn up to six days a week (Mondays through till Saturdays),
it's literally a case of play today, and win tomorrow!
WHERE DO I PURCHASE MY TICKETS?
LottoStar.co.za is completely online-based, which means that in order to play online, you will need to
register; don't worry, this process is quick and easy – and free! Once you have registered online and made your first deposit into your LottoStar account, you're all set to participate in your favourite game.
Your choice is as follows: The EuroMillions, which pays up to R75 million; the Spanish Daily – a Lotto Star Exclusive – which pays up to R90 million; and the big brother, the SuperEnaLotto; famed for its up-to-R160 million in jackpot winnings!
HANG ON – YOU SAID THEY'RE ONLINE-BASED? I DON'T TRUST THAT!
Yet again, LottoStar.co.za is able to allay all your fears and concerns about online safety.
The international banking safety standard is 256-bit SSL encryption; and this is the same security protocol which LottoStar employs for every single transaction on the website! Needless to say, your personal information – and more importantly, winnings – cannot be compromised in any way, shape or form.
Isn't that the biggest peace of mind for all potential players?
Furthermore, the clear-cut advantage to
being online-based is that you no longer need to stand in unnecessarily long queues in order to submit
your entry; with the website being fully compatible to all smartphone and tablet devices, you are able to
game for as little as R3.50 for a single entry, even while being on the move! Stuck in traffic, and wishing
that you had your own personal helicopter instead? Play LottoStar today, and you may just find yourself
being able to afford (nearly) anything you set your sights on – make your dreams a reality today!
Register at Lottostar Today