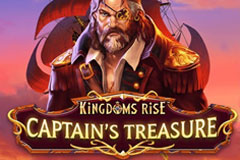 Kingdoms Rise- Captain's Treasure is a Pirate themed slot which is not anything that has not been done before, however the quality of graphics will make you forget you have ever played any other Pirate themed slot before, they are exceptional and can even be played at the best au online casino sites.
Betting Range:
The 50 paylines are active at all times and your bets range from a minimum of $0.10 to a maximum of $1000 per spin. Only the total amount is selected as there is no mention of a line bet. This slot can deliver wins of up to 1000x your stake for which you need Wild symbols covering all the reels.
The RTP is said to be 97.00% but it is calculated to come in at 96.05% because of the contribution to the Progressive Jackpot.
Plundering Symbols:
The symbols in Kingdoms Rise-Captain's Treasure are the Captain with an eye patch, Pirate Ships, Maps, Anchors, Treasure Chests, Barrels of Rum and several low value Gems in light blue, pink, purple and blue.
The feature symbols come in the form of Gold Coins with logos on them, either a W or a Skull.
The Captain's Wild Symbol:
The Wild symbol is the W and this triggers the Re-Spins feature whenever it appears and it will also leave regular Wilds in its wake. The Regular Wild is the coin with the Skull and Cross bow on it.
A Treasure Trove of Bonuses:
Captain's Treasure Re-Spins:
The Re-Spins feature is triggered when the Golden Wild Symbol lands on the reels. Whilst playing your Re-Spins the Wild will move around the reels leaving a trail of extra Wilds behind. This feature ends when the Wild reverts back to its original position.
Features and Tokens:
As you play Gold tokens will appear overlaid on any symbol on the reels. These will be accumulated and added to the running total. These tokens can then be used to purchase Bonus Features at the Kingdoms Rise Shop. Bonus Features are in line with the specific slot you are playing at the time of purchase and in this case you will be able to purchase Golden Wild Re-Spins. Should you select one that relates to one of the other slots in the series you will automatically be taken to that game.
The Captain's Progressive Jackpots:
In the Kingdoms Rise series players stand a chance of winning any one of the three Progressive Jackpots (even at online casinos usa that offer the Kingdoms Rise slot series) and they are:
Epic Jackpot- this Jackpot can be won on any spin.
Power Strike Jackpot- must be won before a certain total is reached
Daily Strike Jackpot- This must be won at a specific time and date.
Final Verdict:
Kingdoms Rise-Captains Treasure is a slot with stunning graphics, it may not have the biggest wins when comparing it to the other slots in the series but my gut says it was designed more for the casual player in mind. It is a nice add on and caters for a different calibre of player which is a good move from Playtech.
---
Play Kingdom Rise Captain's Treasure Slot at the Following Playtech Casinos: