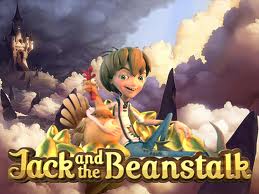 Keep a lookout on the 5th reel as there are keys that will appear randomly which will enable you to collect some very welcome rewards. This reel can also display access to a fixed jackpot which can reward you with a massive multiplier x1000 of your bet!! Wilds can appear anywhere on the reels and when you trigger one you get a re-spin The Wild now "walks" to the left and a win rewards you with a multiplier x3. The Walking Wild keeps moving until it disappears off the reel.
The icons are certainly conducive to the theme and include the monster of "fee foe fy fum" fame, an axe and a watering can and off course Jack himself. There are some subtle improvements loaded into the game like the reels lighting up while spinning indicating where you may win while still spinning.
Betting Range
Betting starts at $0.20 and can accommodates the adventurous player vas it goes up to $100 per spin.
Jack and the Beanstalk Features
Jack and the Beanstalk also feature Scatters and triggering at least 3 will reward you with 10 free spins and can be re- triggered to reward you with 5 more chances.
Players will enjoy Jack and the Beanstalk and the potential is there to win big – give a try and experience it for yourself – NetEnt have produced a quality video slot and you will not be disappointed!
Wins Growing Into the Sky
We quite like how the game looks visually, even if Jack himself looks a tiny bit too creepy for our tastes. The symbols on display are a mixture of poker card icons and some artwork important to the story, such as the goat, an axe, a watering can, the two-headed monster and Jack himself. The user interface is the same one NetEnt has used in most their releases, so you shouldn't have trouble finding your way around it. We quite like some of the smaller things like the reels lighting up to let you keep track of where you'll win while they're still spinning, as it makes a rather nice quality of life feature
Jack and the Beanstalk slot is playable for $0.20 per spin up to $100. Looking over this, as well as the paytable, makes this slot aimed more for people with a bit more money to spend, and don't mind a medium to high variance game. Because of this, special features become a lot more valuable than wins you can score during normal gameplay, which may please some gamblers, but might turn others off from the slot. When you win and how much can really feel random at times, but the best games always keep you guessing.
Jack and the Walking Wilds
You might think that free spins or the treasure hunt might be more important, but Walking Wilds have, in our experience, been the best thing.
When you put it all together, it makes for an immensely satisfying experience. Jack and the Beanstalk slot is one of the better things to have come out of NetEnt in the last few years, and we quite enjoyed it. You owe it to yourself to give it a try.
What makes Jack and the Beanstalk Slot so special?
Before you ask – no this slot doesn't accept magic beans... https://en.goldenrivieracasino.com/ might though...
However, you can win a fortune the size of a giant's treasure if you get lucky playing it. Fans of the game insist that Jack and the Beanstalk slot is definitely one of those games that can give you a fairytale ending.
The 20 pay line slot was developed by NetEnt and as you probably guessed, it sticks fairly close to the story of Jack, who climbed the magic beanstalk after he grew it with his magic beans.
That being said, we don't remember the fairytale having any coin multipliers or wild symbols – so they must have been told a different story to us.
Symbol winnings
Fee-fi-fo-fum, get the wild symbol and you'll be having some fun.
It triggers a re-spin, during which the wild moves to the left. These re-spins will last as long as the wild stays on screen. Then, all wins that include the wild give you an x3 multiplier
Fun, fun, fun
All-in-all, this is just a fun game that's full of ways to win.
The symbols include money bags, a golden hen and golden harps.
It really does embrace the folk fairytale and we can't imagine too many people walking away from this slot without a smile on their face.
---
Play Jack and the Beanstalk Slot at the Following Casinos: